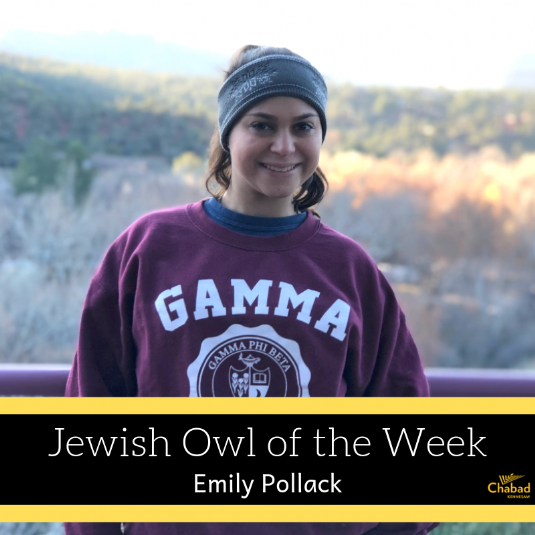 Full Name: Emily Pollack
Hometown: Alpharetta
Class Year: Sophomore
Major: Psychology and Dance
Tell us some of your favorite things to do outside of school? I love to hang out with friends, go to the mall, or watch movies.
If you could do it again, would you still come to KSU? I would still go to KSU because the campus is so pretty, and the Commons are awesome!
How would you describe yourself to someone who does not know you? I am a super out-going and motivated person.
Tell us about your Greek life experience. What made you want to join? Being in Greek Life has been one of the most rewarding parts of college! I love being able to bond with people and boost my leadership skills.
If you could travel anywhere in the world right now, where would you go and why? I really want to travel to Greece! I have always wanted to go there, because I'd love to try authentic Greek food and explore the culture.
What is one of your favorite Jewish traditions or holidays? I like to celebrate Rosh Hashanah because we get to eat apples and honey. My whole family gets together and has dinner, and it's nice to see them.
What do you want to do after college? After KSU, I want to get my doctorate in Clinical Psychology.
Why would you encourage Jewish students to get involved with Chabad? I would encourage students to get involved with Chabad because the environment is so welcoming. Whether it is your first event, or you go to everything, you never feel like you don't belong! Also, Shabbat dinners are an awesome way to meet and connect with other Jewish students!
Favorite Jewish Food? Challah obviously!